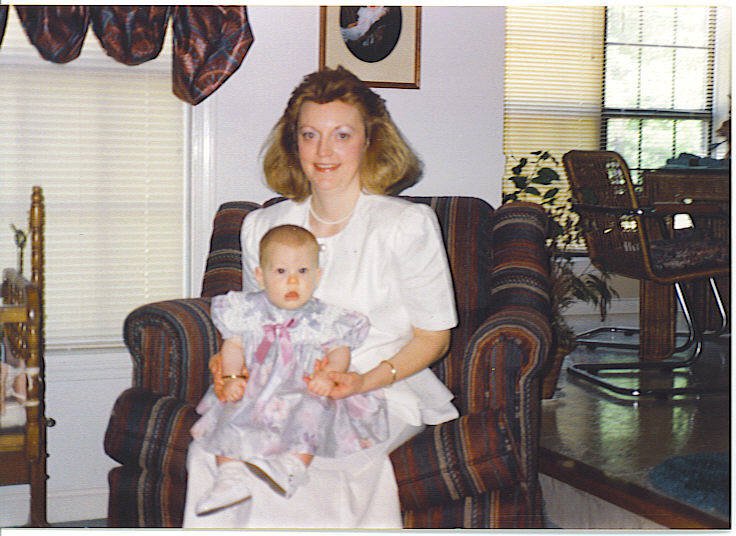 Will and I condensed 4.5 dates of conversations into our first date in 2012. We sidestepped small talk and went straight to things like beliefs about God, personality types, bucket lists, and childhood memories.
After attending a basketball game and shutting down a restaurant for dinner, we decided we still didn't know enough about each other. At my apartment, we picked up the conversation where we'd left it.
Will is an artist, and as he told me about the pieces he'd created in college, I remembered my own childhood art collection under my bed.
"I'll be right back," I told him.  I returned with a burgundy scrapbook at least five inches thick and at maximum capacity with extra papers peaking past its edges.
Upon opening the front cover, Will and I traveled back in time together. I showed him drawings from first grade of Easter eggs colored with Crayolas and writing worksheets from second grade for practicing cursive.
We read my reflection at eight years old on my great aunt's death from cancer, which I'd typed on an IBM computer in the elementary school computer lab before font names and flat screens existed.
We laughed at third-grade Lanie with her puppy, Spanky, at show-and-tell and fourth-grade Lanie posed with hips popped to the right as Shania Twain with a tasseled-and-bedazzled dress, reminiscent of the Grand Ole Opry's glory days.
Looking back, I'm surprised Will stuck around after going through my first eighteen years of life in one sitting.
But I'm so thankful I had that scrapbook for showing because it contained what seemed like souvenirs of all the places I'd traveled to become the woman he was getting to know that night.
Even though they seemed trivial to me, they were treasures my mom felt were worthy of saving and stitching together to tell a story.
…
When I was growing up in our small family of three, my mother was the collector of our stories.
She always showed up with a camera in hand, and she saved the smallest milestones like middle school report cards to the biggest ones like high school academic awards.
She was the curator of our memories, too.
Mom was not just the mom who bought me two concert tickets for my tenth birthday. No, she was the mom who, for the concert, bought gel with pink glitter for my hair.
When my dad and I showed up to shoot a catfishing television show together and the microphone clipped to my waist was tugging too much at my pants, my mom took off her belt and looped it around me to avoid a falling-pants crisis during the shoot.  (That's the picture on the left.)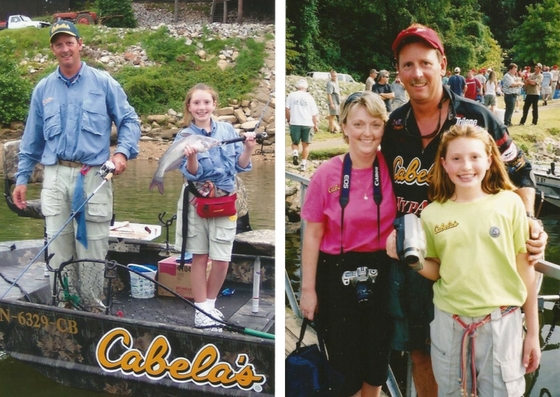 No memory or milestone was ever too insignificant for my mom to curate and keep.
…
In this way, my mom reminds me of Jesus' mom.
The Bible hints to us in Luke 2 at two different moments that Mary was the keeper and curator of her family's memories, too.
Luke 2:19 says, "Mary treasured up all these things, pondering them in her heart," referring to the shepherds and others' visits to see the newborn Jesus, who they'd heard would grow up to be the Savior of the world.
Luke 2:51 says that Mary "treasured up all these things in her heart" some years later when she found her Son conversing with those in the temple and talking about God at such a young age.
Even if Mary didn't yet understand God's purpose for her Son, she stilled treasured up those memories in her heart.
This is purely speculation, but I even wonder if she helped the gospel writers recount Jesus' life. After all, God chose her not only to be Jesus' mother, but to be the treasurer, keeper, and curator of his childhood.
…
Ann Voskamp is another mother who knows this secret to a life fully lived:
"The whole of the life – even the hard – is made up of the minute parts, and if I miss the infinitesimals, I miss the whole. These are new language lessons, and I live them out. There is a way to live the big of giving thanks in all things. It is this: to give thanks in this one small thing. The moments add up." -One Thousand Gifts
The moments add up – stack up quickly like five-inch scrapbooks filled with eighteen years of family photos, report cards, and coloring pages.
At twenty-five-years old, I realize this Mother's Day that I have a choice.
I can hustle and hurt from the hurry, or I can keep and curate with care.
This is the mother I want to be one day, and this is the woman I want to be today.
I want to make time.
Time for pondering both ordinary and extraordinary moments in my heart and writing them down on paper.
Time for curating memories with Will, our children, and our children's children.
Time for archiving victories and defeats and thanking God for his presence amidst both.
Time for drinking coffee and sharing stories with friends and family.
Time for making scrapbooks and photos without Instagram filters.
Time even for reminding others of their own journeys – that God's never finished with their scrapbooks, never done with their stories.
Yes, this is the woman I want to be: a keeper and curator of memories to love well and live full.
This is what my mother taught me.