Maybell Gates, my mentor since 10th grade, passed away on August 22, and her family asked me to read a eulogy of sorts at her funeral. She shared her love for Christ with everyone, and she extended the love of Christ to everyone. She was faithful in in Corinth for decades through small acts of faithfulness. I wanted to share with you what I read at her funeral as a reminder that a life spent washing feet without fanfare is not so small after all.
"[Jesus Christ] lived as God would live among humans."
I read this sentence in a book by Robert Coleman on Wednesday morning moments before I received a call from my mom about Maybell's passing.
Jesus—God incarnate—lived as God would live among humans, and He calls and empowers His people to follow His example. Maybell's life is a testament to this kind of wholehearted pursuit of her Savior.
In my tenth-grade Sunday school class at Farmington Baptist Church, my Sunday school teacher Brenda Rogers encouraged us to ask an older woman in our church to minister us. This mentor ideally would walk with us and teach us from a different perspective what it means to follow Jesus for the long haul.
I did not know Maybell very well. I knew she and Billy faithfully returned to the same pews every Sunday by the organ where my parents also sat. I had a good a view of this crew directly across the sanctuary in the youth-group section where my mother would cut her eyes towards me at a moment's notice of misbehavior.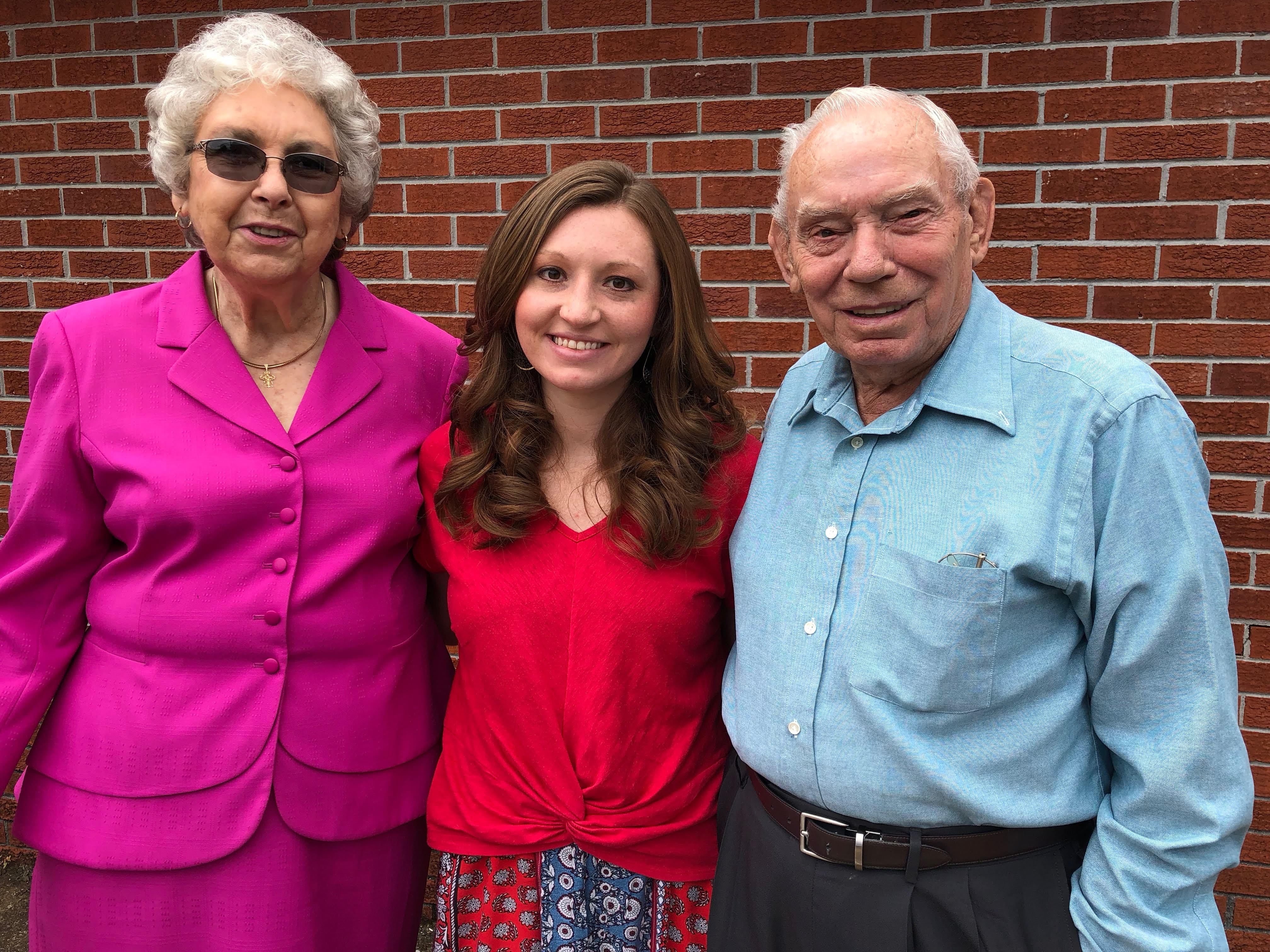 Maybell came to mind because my late great aunt, Bobbie Hill, adored her, so I assumed she had to be a decent candidate to mentor me. The request for mentorship felt awkward for me, but she gladly agreed. (This was before the word "disciple" became more popular than "mentor" among churches.)
I left later that year for a public boarding school in Columbus, Mississippi, called the Mississippi School for Mathematics and Science. I came home almost every weekend and briefly caught up with Maybell on Sunday mornings in her pew. We occasionally went to Pepper's Deli and spent no less than two hours together, talking about God, boys, and college applications over our usual grilled chicken wraps and sweet tea.
This tradition continued through my time as a college student at the University of Mississippi. I was unable to return to Corinth as often as I did in high school, but I remember lengthy conversations either at Pepper's Deli or on the phone with Maybell.
She and Billy walked with me through significant milestones in my life. I confided in Maybell when I began sensing a call in college toward ministry and away from medicine, which was quite a change in vocation and coursework. Maybell simply encouraged obedience to God, even if that road of obedience offered less certainty.
I remember the first time Will came with me for a visit to Billy and Maybell's house. Baby and Sparkle, their dogs, sniffed him out first, but I knew Maybell and Billy were paying careful attention, too.
"Lanie, we really like him," Billy told me at church the next time I was in Corinth. I did not have to say it out loud – Maybell and Billy knew their approval of the man I might marry mattered to me.
Maybell taught a women's Sunday school class, and she entrusted the class to me on multiple occasions when she was unable to teach. As a high school student and then a college student, Maybell gave me some of my first opportunities to teach the Bible—to women who I felt should be teaching me.
I did not believe I could it, and perhaps Maybell did not believe it either. By this, I mean Maybell knew I could not do tasks bigger than me without trusting the Spirit of God in me.
I heard someone earlier this week say God had revealed to her that she expected too little from the junior high students she mentored at her church. She said, "God showed me that these students might be young, but the Holy Spirit is not 'young.' The Holy Spirit that empowers them is the same Holy Spirit that empowers me."
I realized that Maybell entrusted me with ministry at such a young age because she knew that our souls were empowered by the same Spirit. She knew teaching Sunday school might be daunting to me, but it was not too big for God.
Our relationship was not complicated. Maybell simply taught what she learned from her own Teacher: Jesus Christ.
I am convinced our late teens and twenties are the most tumultuous years of our lives. Certainty shifts as our world gets bigger, and we become more aware of the experiences, needs, and beliefs of others and ourselves. Maybell stood as an observer to my journey with Christ and spoke truth into my life during seasons that did not make much sense. For eleven years, she walked with me through the highest of highs and lowest of lows, and she passed on wisdom to me I can never repay.
For so many, yielding authority and permission to someone else to "get into your business" leaves a bad taste in their mouths. We have all seen the power to shepherd another turned into the misuse of power to manipulate, condemn, and even abuse another. It does not have to be this way, and Maybell is an example. She gently walked the line between correction and grace alongside me throughout my teen and young adult years. She taught me how to lead and be led, and I learned we never outgrow our need to be led by another.
She was like that mustard seed Christ talked about in his parable that takes root and flourishes. Maybell planted deep roots in Farmington, Mississippi, and she was faithful without all of the fanfare.
"[Jesus Christ] lived as God would live among humans."
Maybell faithfully loved and served her community, and she did so as she consistently pointed beyond herself to Jesus Christ.
In 1 Corinthians 11:1, Paul wrote centuries ago, "Be imitators of me, as I am of Christ."
Maybell was my mentor and friend, but most importantly she was an imitator of Christ.
I hope to be half the mentor Maybell was in my lifetime. I celebrate with her today because she is in the presence of the Savior to Whom her life testified.
Proverbs 15:22 says, "Without counsel plans fail, but with many advisers they succeed."
I believe we honor Maybell's legacy in this way—we take our place behind her and a "great cloud of other witnesses" of Christ. We become the mentors, the disciples, the Sunday school teachers, the front door greeters, the brothers and sisters and fathers and mothers of others as we point to the God who sustains us all, the God who welcomes Maybell home with, "Well done, my good and faithful servant" (Matt. 25:23).